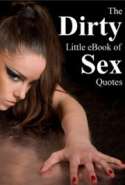 The ultimate source for the best sex quotes around!
Featuring over 200 of the best sex quotes and illustrations that are organized into 30 categories for quick and easy reference, this e-book covers it all:
Dirty sex, bisexuality, money, chastity, the Tao of sex, safe sex, relationships, and more!
Download Your Free Copy Today!
By Downloading This eBook, you consent to being added to our mailing list !!
Staff Favourites…